BENEFITS OF FACE MASKS
A gloopy, gel or sheet-style facial product, face masks are like a more intense love affair compared to your long-term skincare products. Staying on skin for anywhere between 10 minutes to all night (ooh la la) they're then removed to reveal skin that feels pampered, energised, hydrated... So, how often should you do a face mask? Best used 2-3 times a week, face masks run complementary to your daily skincare routine, giving your face a turbo-boost of whatever it needs. Not to get all soppy, but we think brilliant you deserves that little something extra.

HOW TO APPLY A FACE MASK
STEP 1: REMOVE MAKEUP
Before you apply anything to your face, it's essential to have a clean canvas to let your products get to, you know, your actual skin. So, make sure your face is free of makeup with our Camomile Silky Cleansing Oil. Massage this nourishing-feeling oil all over your dry face, add water to emulsify, then rinse off. It's enriched with camomile extract from Norfolk, England and helps to remove all makeup, even waterproof mascara, revealing clean and fresh-feeling skin.
STEP 2: CLEANSE
The double cleanse is lauded for helping to clear out as much dirt, oil and impurities from the skin's surface as possible. After clearing skin of make-up, here comes part two of that technique. Using our cleanser, the Vitamin E Gentle Facial Wash, you'll help to rid your face of anything that might still be clinging on after step 1, leaving skin feeling refreshed and ready to soak up all the good stuff from your face mask.
STEP 3: APPLY MASK
The crux of how to apply a face mask comes down to this. Make use of our Facial Mask Brush to smooth the Himalayan Charcoal Purifying Glow Mask evenly over your entire face, avoiding the eye and lip areas. You might want to use your fingertips to apply to targeted areas, too. Make sure you get into all the hard-to-reach nooks and crannies of your face and sweep underneath the jaw line and onto the neck too, if you like.
STEP 4: LEAVE ON FOR 10 MINUTES
The easiest step to follow – now's the time to chill. This is that pampering time we've all heard so much about, but never actually gotten round to. Trust us, you can carve this out – 10 minutes is all it takes to let the mask set to work. In that time you could do anything from the washing-up to, dare we say it, lie back and relax for forty winks. We won't tell if you won't.
STEP 5: RINSE
10 minutes up already? By now you should have felt the effects of your face mask, especially if you're using our tingle-teaser of a Charcoal Mask. You might even notice that some areas of your face appear darker where the mask has soaked up more oil than in other places. Wonderful – it's time to rinse using warm water and one of our Muslin Cloths. Gently massage the wet cloth around your face until all product is gone.
STEP 6: MOISTURISE
What to do after removing the face mask? Little known, but there's one step left. Now you've helped to purify skin with our invigorating charcoal mask, you'll need to help restore moisture. Your skin will drink up our Edelweiss Smoothing Cream, a lightweight air-whipped face moisturiser that's infused with double the concentrate of Edelweiss. It helps skin to feel more supple and smooth and rounds off your regime, making you feel like you've been to a spa without ever leaving your bathroom.

TOP 5 MASK BENEFITS
1. EXPRESS OR OVERNIGHT MASKS
Like a passionate whirlwind romance, face masks are an intense burst of what your skin desires the most. You can apply a thick juicy layer and leave them to soak in from 10 minutes or even up to 10 hours for our overnight masks. This gives masks breathing space to work quickly on specific skin issues, helping give you immediate and visible results. Woo hoo!
2. CLEANSING CLAY MASKS
As you may know, our skin is a multi-layered phenomenon and our faces have several microscopic layers of cells. The beauty of intense cleansing masks is that they can get to places our daily cleansers simply don't have the time or resources to get to. Clay masks in particular have a special knack of drawing out impurities as they dry. So watch out mug grub!
3. GREAT FOR SELF-CARE
We've all got important places to go and people to see. Amid all that go-getting, it's easy to forget how to relax. But we're all starting to realise how important the quiet times are, the yin to our yang. So a face mask can be a double whammy of bliss, in that you get an excuse to chill and practise self-care, while your skin has a chance to rebalance.
4. MEETING YOUR SKIN'S NEEDS
The answer to, 'what do face masks do for your skin', is more about understanding what your skin needs the most. These intense types can be single-minded trouble-shooters or superstar multi-taskers. Does your beautiful mug need a deep clean, an intense boost of hydration, some gentle soothing or a little bit of everything? Once you've established that, they pretty much do what they say on the tin/tub/pack.
5. MADE FOR YOUR SKIN TYPE
The Body Shop masks are a popular bunch that's for sure. Concocted with all your favourite ingredients from around the world in pots and pouches that wear their hearts on their sleeves, and go out of their way to help to deliver benefits for all skin types. We've got every skin concern covered, from blemished and oily, to sensitive and dry. And breathe.
WHAT IS MULTI-MASKING?
Multi-masking The Body Shop way is a targeted approach that will help your skin to look and feel tremendous. Clever face mask fanatics in South Korea came up with the concept of multi-masking. The idea is that you use different masks at the same time on different parts of your face, depending on what your cheek, chin, nose and forehead are each calling out for. This is perhaps most fitting for combination skin types, whose T-zone needs might differ greatly from what the rest of the face is craving. Regardless of your skin type, applying different products to certain parts of your face helps to zero-in on specific skin concerns and target them.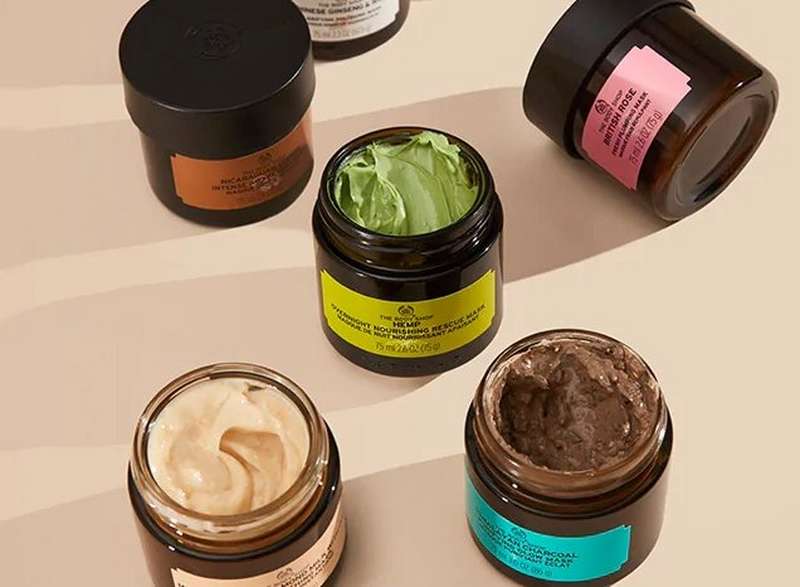 HOW MANY FACE MASKS PER WEEK SHOULD YOU BE USING?
Like all face mask routines, multi-masking is ideal 2-3 times a week. The number of distinct masks you apply to your face is up to you. A perfect way to test out a Multi-Face Mask routine is to check out our Mini Masks, neat little pick 'n' mix versions of our full-size skincare superchargers. This also means you can easily pack your favourites whenever and wherever you're travelling, or even bring them along to friend's to try out all together. Choose from: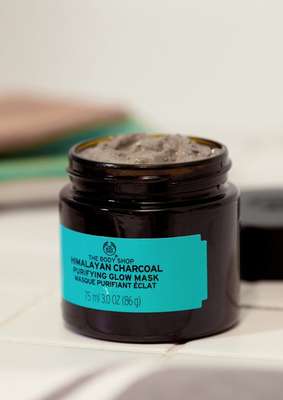 HIMALAYAN CHARCOAL PURIFYING GLOW MASK
Ideal for troublesome T-zones, helping to absorb extra oil.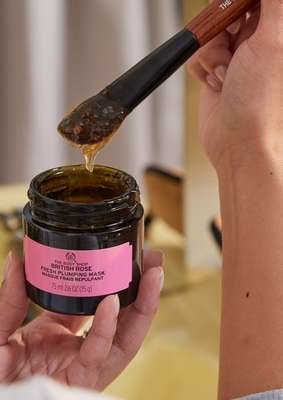 BRITISH ROSE FRESH PLUMPING MASK
Perfect for applying to cheeks for help with hydration.
MEDITERRANEAN ALMOND MILK WITH OATS INSTANT SOOTHING MASK
For help comforting any sensitive areas on your face, avoiding getting too close to the eye area, as ever.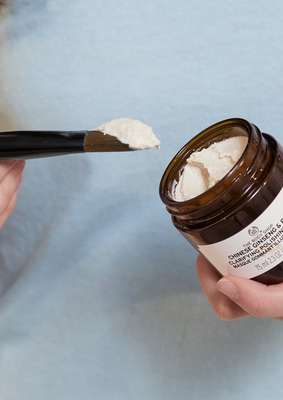 CHINESE GINSENG & RICE CLARIFYING POLISHING MASK
For help reviving dull complexions or uneven skin tone.

HOW TO MULTI-MASK
STEP 1: T-ZONE
Ready Picasso? Time to multi-mask like a multitasking pro. This is all about beautiful sweeping movements with your Facial Mask Brush. First up that pesky T-zone. Take a dollop of our Himalayan Charcoal Purifying Glow Mask, and sweep the gorgeous dark grey clay texture across your forehead and down your nose. This is the bee's knees for drawing out impurities and mattifying excess oil on the skin's surface.
STEP 2: CHEEKS
Like all artists know, cleaning your brush in between pots is essential. Then you'll be ready to give the rest of your face the deeply hydrating love it desires. Go for it with our British Rose Fresh Plumping Mask. Lavish across drier areas like your cheeks and cheekbones and feel the indulgent mask melt onto skin. The different textures will feel divine, not to mention the contrasting colours looking like somewhat of a masterpiece.
STEP 3: CHIN
And now for the master stroke. Again, wash that Facial Mask Brush before dipping it in our Chinese Ginseng & Rice Clarifying Polishing Mask. This is our best The Body Shop face mask for helping to revive areas that look dull or have uneven tone. Sweep it over and around your chin to complete your work of art. Voila, you're now officially your own personal portrait painter and semi-professional beautician to boot.
STEP 4: RELAX
All that's left for you to practise now is the fine art of relaxation. Flick through tunes or pop your favourite show on and lean back, relax. You've now got 5-10 minutes of official me time. Nothing to do other than let your artistry do the hard work of pampering and balancing your skin for you. That's the multi-masking ticket.
STEP 5: RINSE
Time's up. You'll need to rinse all the masks off thoroughly. If you've managed to relax, no reason why you can't stay in the zone. You'll need a basin or bowl of warm clean water and a Muslin Cloth to dunk in. Wipe away, then rinse and wipe again. Change the water and yes, you've guessed it, wipe away, then rinse and wipe again… until your beautifully clean, rebalanced face is ready to be unveiled.
HOW TO APPLY A FACE MASK IN 3 DIFFERENT WAYS
Now you know what multi-masking is all about, let's look at three ways to use a mask, either on its own helping provide a quick fix to a problem area or with the luxury of time, when you're using three different masks in three different areas. Take our Himalayan Charcoal Purifying Glow Mask, our resident expert when it comes to a deep cleanse particularly for oily or combination skin. Enriched with bamboo charcoal, Community Fair Trade tea tree oil and green tea leaves, it's great for targeting specific problem areas.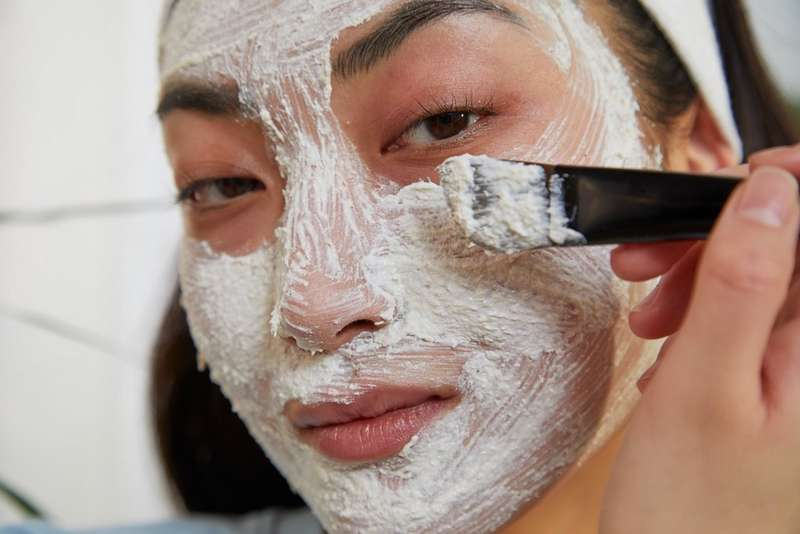 ALL OVER THE FACE
Sometimes excess sebum and grime get the better of our whole face and we feel the need for an all-over deep cleanse. Our Himalayan Charcoal Purifying Glow Mask can be pasted across your whole face (avoiding the eye and lip area of course) using our Face Mask Brush. Enjoy sweeping the refreshing clay texture across cleansed skin. It gets to work in 10 minutes and can be used 2-3 times a week, helping exfoliate and purify skin, mattifying as it goes.
FOCUS ON YOUR T-ZONE
Sometimes the T in T-zone stands for tricksy, whether you have oily or combination skin. Meaning your forehead and nose can produce more sebum than the rest of your face and be more prone to blocked pores. Which unfortunately can mean blemishes and breakouts. Our Himalayan Charcoal Purifying Glow Mask masterfully draws out impurities from this problem area, leaving your skin looking refined and feeling soft.
NOSE & CHEEKS
Big trouble with big-looking pores? This is a real issue for lots of you beautiful people, especially around your nose and cheeks. As you might have already guessed, if this is a drama in your life then it's our Himalayan Charcoal Purifying Glow Mask to the rescue. The whole purifying combo – bamboo charcoal, tea tree oil and green tea leaves – delivered in a gorgeous clay texture helps whip out the nasties, clearing the way to help your pores appear clearer and more refined.
OUR BEST FACE MASKS
What are face masks for if not to help your skin feel loved. For a mere 10 minutes out of the 1440 minutes in one day, it's all about you and your fantastic face. Regardless of whether you need help getting your excess oil in hand, help soothing tight, dry skin or an overnight skin saviour, after using your ideal face mask your complexion will feel like it's gotten a whole heap of good stuff, and a whole lotta love. The Body Shop masks are for everyone, whether you're a face mask fan religiously using one 3 times a week, or a fair-weather dabbler. It doesn't make a difference to us – if you're here to find your first face mask or your fiftieth, we've rounded up our best face masks for those skin types and concerns most in need of a little extra tender loving care. Read on to find yours, and before you know it, you might just be truly, madly, deeply in love with your favourite.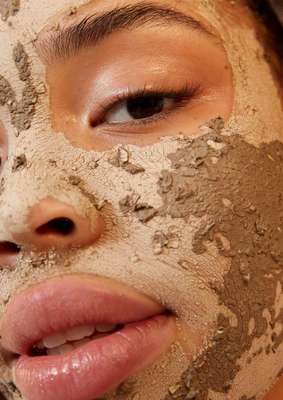 FOR OILY & CONGESTED SKIN
Our Himalayan Charcoal Purifying Glow Mask will be your bathroom beau for helping to soak up excess oil, lure out impurities and refine the appearance of pores. You'll wonder how you ever did without this vegan wonder. Enriched with bamboo charcoal, green tea leaves and Community Fair Trade tea tree oil from Kenya, when you let this mask set to work you'll feel some touchy-feely tingles. Rinse, step back and admire – skin looks purified and mattified.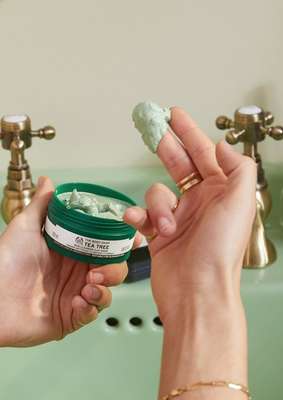 FOR BLEMISHED SKIN
Feel like you're constantly battling blemishes? Help keep them at bay with our Tea Tree Skin Clearing Clay Mask, a vegan skin-soother that's enriched with Community Fair Trade tea tree oil from Kenya. It helps to clear skin of impurities, without over-drying. All you need to do is smooth a generous layer over your face post-cleanse and wash off after 5-10 minutes to reveal how it's helped to mop up excess oil and clear the complexion.
TO REPLENISH SKIN WITH MOISTURE OVERNIGHT
You'll be asking, 'who's that sensational stunner?' when you glimpse your face after using our Edelweiss Bouncy Sleeping Mask. Pop on post-PJs – the cream-gel texture feels meltingly light on skin – and wear all night to leave skin feeling refreshed. It's enriched with edelweiss extract and helps skin to feel replumped with moisture so you wake up looking more rested and radiant.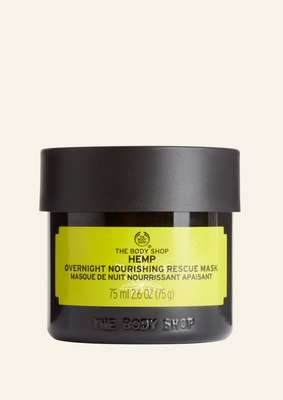 FOR DRY SKIN
For skin that needs a gulp of hydration, our Hemp Overnight Nourishing Rescue Mask is the business. Hailed as The Body Shop mask for dry skin, it's enriched with hemp seed oil and Community Fair Trade organic aloe vera, widely raved about for its skin-nourishing nous. Smother it on before bed – it feels protective without greasiness. By sun-up your complexion will feel richly hydrated, comforted and replenished with moisture for up to 72 hours.